Laura Henze Russell is a member of the Massachusetts delegation to the Safer Chemicals Healthy Families' Stroller Brigade for Safe Chemicals in Washington DC.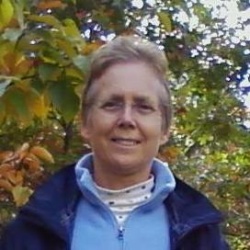 Laura grew up on Long Island, New York. The horror of cancer hit home early for Laura when one of her friends lost her mother to the disease in high school. Unfortunately it didn't stop there.  Over time, the the majority of her friends from the neighborhood, and their mothers, have contracted breast cancer.
Cancer hit her family too. Laura's mother got non-Hodgkin's lymphoma in her 60s, her father–who was not a smoker–was diagnosed with lung cancer in his 80s, and Laura herself had breast cancer in her 40s and got fibromyalgia 20 years ago.
She says of her childhood neighborhood, "We lived down the street from a mansion that was converted to a dairy, which sounded pretty wholesome. However, we later wondered what the dairy released into the water supply as they packed their products."  When that many people have cancer, questions start to get asked.
Today, Laura lives in Sharon, Massachusetts with her husband and 20 year old son, and health problems with links to toxic chemicals have not left her alone. Last year she experienced escalating and aggravating health problems including finger tremors, unexplained skin problems and infections, allergies and sensitivities to foods she'd eaten her whole life, and continued challenges with her fibromyalgia. After a year of inconclusive doctors appointments and a battery of expensive tests, the culprit was finally found: mercury.
Like so many of us, Laura had a mouth full of mercury. A common dental filling material known as "amalgam," also referred to as "silver" is made of 43 to 54 percent mercury, a potent neurotoxin. Laura had many such fillings and the mercury level in her body was elevated to more than 40 percent over the normal range even two months after starting detox.
Laura is on a mission to prevent others from having to go through what she did. "Physicians, labs and hospitals are not equipped to recognize and diagnose mercury poisoning," she said. "I got third opinions from numerous specialists who said that it was all in my head. It was not even raised as a consideration."
She sees friends and colleagues experiencing similar health problems and wonders if they too have been impacted by mercury or other toxic chemicals.
Her mission is an economic one too.  "Mercury and other toxic chemicals wreak havoc on the immune and central nervous systems and and open the door to many heath problems and diseases that are extremely debilitating and raise health care costs," she said. "If we want to keep health care costs down we need to stop poisoning people."
Thankfully, this saga turned into a success story; within a week or two of starting mercury detox, she had a dramatic reduction of some of her symptoms. Now, two months later she says, "I am stronger and healthier than I've been in 20 years!"