By Linda Thomas – correspondent for the Medfield Press. Reprinted with permission from the Medfield Press.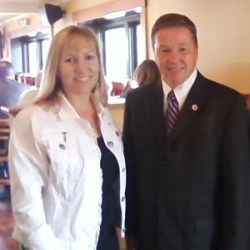 Cheryl Durr Patry watched as her infant son's skin turned red.
It was dry, itchy and scaly – how his little nails tried to tear it up as he cried. He was borderline colicky, she said.
She tried over-the-counter creams and salves, and eliminated different foods from his diet.
Then, one day, he sneezed 15 times in succession while sitting on a table she had just dusted with a brand name wood cleaner.
But once she fought back with unscented detergents and 100 percent cotton clothes, she soon saw improvement in her son's condition.
Fourteen years later, this Medfield wife and mother of four has brought what she learned in her own home to a wider platform as a powerful lobbyist for legislation and co-founder of Medfield Green.
This three-year-old non-profit, community-based organization was formed by Durr Patry and three other Medfield moms – Jill Driscoll, Megan Sullivan and Ingrid Nevins – as a way to help the community learn and share how to live green and make informed decisions and better choices for their families and the environment.
"My hope is that my children and all children won't have to worry if a product has been effectively tested for safety," Durr Patry said. "It will be…Our children won't have to wonder if undisclosed ingredients are listed on products. They will be."
Because of her strong family history of cardiovascular disease, Durr Patry focused her energies on health supporting practices.
She earned a bachelor of science degree in sports medicine from Marietta College in Ohio, and a graduate degree in applied anatomy and physiology from Boston University.
It wasn't until her son's skin sensitivities that she began to realize how environmental toxins played such a vital role on a small infant's body. That spurred her to educate herself more on the effects those toxins have on the lives of our children and the environment.
Medfield Green sponsors some hands-on make-your-own cleaning products and conducts discussion groups open to the public. They meet half a dozen times during the school year on ways to shrink your footprint on earth.
"It is a forum where people can learn and share information about living healthier and lighter on the planet," she added.
Topics range from skincare, water, energy and composting to exploring holistic therapies such as acupuncture, reiki, massage and health counseling. Meetings are held all over town from the Center at Medfield, the Zullo Gallery, and the Town Hall, to Peace Abby in Sherborn.
The group speaks at Lions Club meetings, middle school classrooms, after-school programs, and women's groups.
Its biggest event, "Green Day," is held in April – a one day drop off recycling event including charitable organizations: Cradles to Crayons, Planet Aid, the Medfield Library, Medfield Animal Shelter and Bethany House and more.
Medfield Green depends on its volunteers to plan, fundraise and organize, Durr Patry said.
Fellow founders Driscoll and Sullivan both believe Durr Patry is passionate about her beliefs and is dedicated to her cause, willing to make time to work for the greater good.
Sullivan, a mother of three, met Durr Patry about seven years ago when their daughters were in Girl Scouts together.
"Cheryl cares passionately for the earth and the health of everyone on the planet and is willing to work very hard to make that happen," Sullivan said.
About 13 years ago, Driscoll, a mother of two, met Durr Patry when both were in a little mom and child play group that met once a week to chat and be together while their children were growing up.
"No matter what is going on in her life, I can always count on her friendship," said Driscoll, a health counselor at the Holistic Wellness Center in Medfield. "She's a caring mother and wife – and a tireless volunteer…She's always there to help anyone in need. She has a kindness and a steady strength that isn't like anyone else I know. I admire her spirit of hope – and she believes we can all make a difference."
Medfield Green is on the governing board for Alliance for a Healthy Tomorrow, a coalition of citizens, scientists, health professionals, workers and educators seeking preventive action on toxic hazards.
Durr Patry has lobbied to support two initiatives on behalf of the alliance – the Safer Alternative Bill (An act for a competitive economy through safer alternatives to toxic chemicals) and the Bisphenol-A (BPA) campaign.
Elizabeth Saunders, director of Clean Water Action and coordinator for the Alliance for a Healthy Tomorrow, said Durr Patry has helped to raise awareness for a healthy environment for our children.
"She started by hosting workshops about toxic chemicals in her home, and from there started one of the most active local environmental organizations around the state, Medfield Green," Saunders said.
"Through the workshops she's hosted and other efforts with Medfield Green, I suspect that hundreds of individuals have become more aware of the need to protect our health from toxic chemicals, and many have gotten involved with the Alliance for a Healthy Tomorrow."
In 2008, the alliance presented Durr Patry with its Outstanding Citizenship leadership award for her work in mobilizing the mothers of Medfield and for using her energy to protect children from toxic hazards.
"Over the past few years she has testified at hearings, spoken at press conferences, called and met with her legislators, joined in lobbying efforts organized by others, and gotten other local people involved in the efforts to protect our health from toxic chemicals through these initiatives," Saunders added.
"In particular she was persistent with her state representative, now senator, Richard Ross, and gained his support for the bill in the most effective way – by developing a one on one relationship with him."
While lobbying in support of the Safer Alternative Bill, Durr Patry started off nervously making a 30-second call to Ross.  On May 15, 2008, she met him informally at Noon Hill Grill.
Eight days later he pledged to support the bill.
Ross, now a Republican state senator representing Norfolk, Bristol and Middlesex Districts, called Durr Patry a strong voice for reducing toxic chemicals in the environment.
"She is a great advocate not only for things she believes in but for the future of our children," he said.
She subsequently appeared with Ross on two occasions as a guest on Medfield Cable T.V.
Then, in March 2009, she spoke at the State House in Boston. She and Tufts University scientist Laura Vandenberg and state Sen. Karen Spilka presented Gov. Deval Patrick with thousands of petitions against using BPA (a toxic plasticizer) in baby products and water bottles – making front-page news the next day in the Boston Globe.
Nine months later, the state Department of Public Health voted to ban BPA in baby bottles and cups.
Along with her lobbying and advocacy, Durr Patry works at the Michael Carter Lisnow Respite Center in Hopkinton for mentally and physically handicapped adults. It is an adult day care center that gives families a break and provides a loving and caring place for them to interact with others. She assists with other staff in the day-to-day activities.
Durr Patry came to Medfield in 1992 and lives with husband Ron and their four children: Matthew (14), Shealagh (11), Tess (9) and Sammy (7).
She said she hopes her children will have learned that positive change can start with them on any kind of level.
"My daughter had the opportunity to be part of the BPA press conference and meet our state representative at nine years old," she said.
"Hopefully that experience will empower her in the future so she can create change. I feel blessed to be able to share this experience with her."
Durr Patry said loving is a great motivator for change. It started with her son's skin condition and continues through the contributions she is making to her various causes – hoping her children will follow her lead.
"If this happens, as a mother, I may have done a piece of my job right . . . my fingers are crossed."

Visit the Medfield Green website to learn about this AHT member organization.